Ella Bay — 9 kilometres north of Innisfail
The Ella Bay Integrated Master Planned Community is located in the Cassowary Coast Regional Council , North Queensland, at Ella Bay. It is 3 kilometres north of the townships of Flying Fish Point and The Coconuts, and 88 km south of Cairns.
The site is currently a large rural property which has been cleared for agriculture since the early 1900's. The site has an esplanade located along the foreshore which enjoys extensive beach frontage of 3 km to the Coral Sea. The site rises gently to the west where it shares a common boundary with the Ella Bay National Park, which also borders the property to the north and, in part, to the south. The Ella Bay National Park is included in the Wet Tropics World Heritage area.
Location Map
Map showing Ella Bay in relation to Innisfail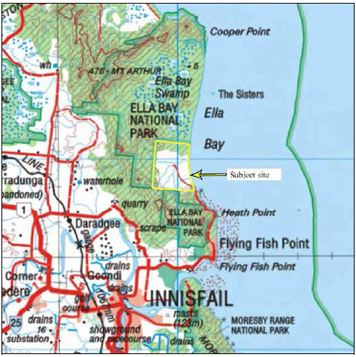 Location Map
Map showing Ella Bay in relation to Innisfail, Mission Beach and Cairns