Ella Bay is a secluded sanctuary ringed by rainforest and reef, nestled in a natural amphitheatre of world heritage protected Wet Tropics rainforest.
The vision for Ella Bay is a world class ecologically sustainable resort community, with emphasis on the environment; protection, research and conservation and sustainable development; designed to promote self- sufficiency, particularly in relation to energy, water and sewerage management and showcase environmental stewardship of the native flora, fauna, and climate change.
The site is currently a large rural property which has been cleared for agriculture since the early 1900's. The built environment and golf course will be restricted to current cleared areas with any degraded rainforest rehabilitated and strengthened.
The opportunity is to develop a clearly planned, eco-caring integrated townships, which sets the future standard in energy, water and conservation management.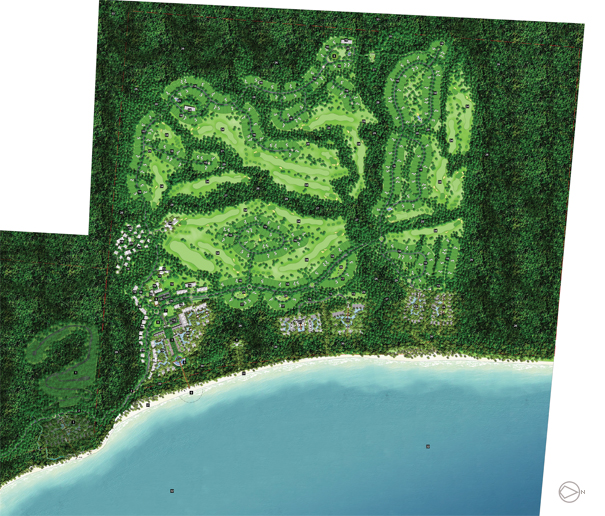 Ella Bay is sited on two adjoining freehold property titles owned by Ella Bay companies.
At the southern end, the 150acre (76ha) Little Cove site will feature resort villas and hillside homes set within the rainforest overlooking the Coral Sea.
While the northern property will feature:
4 resort precincts with 6 five star resorts comprising 890 units and villas along the coastal side of the site

4 residential precincts of 540 residences, many lining the golf course, and 70 exclusive residences located within pristine tropical rainforest overlooking the Coral Sea

A village precinct at the heart of the development, accommodating retail spaces, professional services, offices and restaurants, attracting visitors and residents alike

An 18 hole competition golf course, clubhouse, sports complex, community services and parkland

A research and educational area including an International School, and Sustainability and Cassowary Research centres.
Concept Plan showing the Development site. Refer to the Supplementary Environmental Impact Study.